The Weill-Lenya Research Center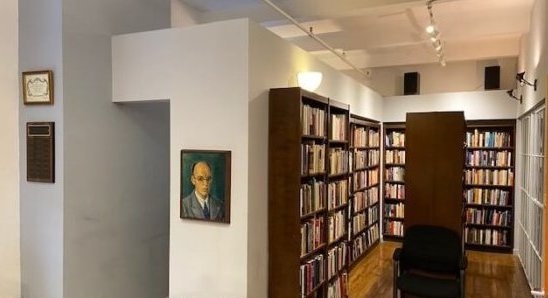 About the Research Center
Founded in 1983, the Weill-Lenya Research Center is the principal international repository for documents in all forms and media that contribute to the study of the lives and works of Kurt Weill and Lotte Lenya. It holds a collection of research materials, distinct from the Weill-Lenya Papers housed at Yale University Music Library, that consists both of original items acquired by the Research Center and copies of items held elsewhere. The Research Center staff seeks to provide the most comprehensive access possible to such material—including assistance in locating items housed in other repositories—and to serve everyone interested in Weill or Lenya: performers, conductors and theater artists, media professionals, scholars, students, fans. We will gladly handle anything from basic questions to in-depth assistance with scholarly research. The Research Center also lends images from our collection for publication or display. Since its founding, the WLRC has provided source materials for a large number of books and dissertations, and the staff has assisted in the planning and realization of nearly four decades' worth of concert and stage performances, festivals, broadcasts, exhibitions, and recordings.
The Research Center houses smaller collections pertaining to American composer and writer Marc Blitzstein, distinct from the Blitzstein Papers at the Wisconsin Center for Film and Theatre Research, and American writer and editor George Davis (Lenya's second husband). Material in all of the collections may of course be useful as well to those seeking information about colleagues and associates of Weill, Lenya, Blitzstein, or Davis. Finally, a large collection of scores, correspondence, programs, clippings, etc., from the estate of David Drew is also available.
In addition to serving the public, the Research Center supports the program activities of the Kurt Weill Foundation for Music and serves as the source repository for the Kurt Weill Edition.
Housed in the Kurt Weill Foundation's offices at 7 East 20th Street in Manhattan, the WLRC is open to the public by appointment. Those interested may visit the Research Center or pose questions to the staff by telephone or e-mail. Audio and video playback and a photocopier are available on-site.
The Collections
The collections in the Research Center are organized broadly by type of material (scores, correspondence, production history, recordings, etc.), with further categories within each material type, each designated as a numbered series. For an overview of the collections with selections from various series, please click on "Collections and Highlights" below. "Featured Content" shows curated items from the collections organized around particular themes that will change from time to time.
The Weill-Lenya Papers at the Yale University Music Library
To learn more about this significant additional collection of related holdings, see the guide to the Weill-Lenya papers at Yale.
View the Yale Collection
Resources for Study
Linked below are lists of various resources included in and beyond the holdings of the Weill-Lenya Research Center. All are useful for further study of Weill and Lenya, whether by experienced scholars, interested professionals, or curious students.
Facilities & Hours
The Weill-Lenya Research Center is located on the third floor of a 12-story building in a historic area of Manhattan known as the Flatiron District, situated west of Gramercy Park and east of Chelsea. It is accessible by subway (1,4,5,6,F,M,N,Q,R,W) and bus (M1-3, M7, M23, M55) lines. The facilities include a reading room, video viewing room, listening facilities, and photocopy equipment.
Hours
Monday - Friday
10:00 AM - 5:00 PM
(by appointment only)
Closed on major holidays and the last week in December.
Please contact the staff if you are interested in making an on-site research appointment.
The Research Center may be closed occasionally at other times. Please consult the staff well in advance if you plan to travel to New York.
Get in Touch
The Research Center staff welcomes inquiries from music and theater professionals, scholars, students, fans, or anyone with an interest in Weill, Lenya, or Blitzstein. Please direct questions about licensing images from our collections to the staff as well. Information regarding other licensing matters is available from our online Licensing Guide.
For questions about research or licensing images
212.505.5240 | Ext. 206
wlrc@kwf.org